TLBB Peddling Guide
Peddling is a great way to make money while not playing TLBB. Peddling allows you to set up a stall where you can sell your goods to other players at prices you set yourself. In order to set up a stall and start peddling, simply follow the steps bellow.
Peddling
1.You may set up a stall to peddle in any city that has a sidewalk (green). You may not set up any shops on the main pathways (Red). Please also be courteous and make sure there are not too many stalls set up in a single area.

3.In the Inventory window, select the peddle button.

4.Selling and Stall Information.
a. Red- You can change the name of your stall to reflect the type of items you are selling.
b. Blue- When you select the item tab, you will see the items that you have for sale.
c. Green- Selecting the Pet tab will show the pets you have for sale.
d. Yellow- In this area, you can describe the items you are selling.
Selling A Pet
5. In order to sell a pet, select the pet tab (Green) and select the pet you would like to sell.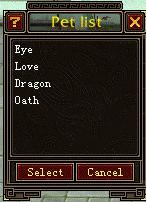 6. After you have selected the pet you would like to sell, you will have to set its sale price

7. After you have set the price, you can look at your pets for sale in the pet tab.
Selling Items
8. In order to sell an item, drag the item from your inventory and drop it into one of the blank spaces under the Item tab of the Sell window.

9. After you have dragged and dropped the item, set the price in the window shown below, and then you are ready to peddle!